Nov 2nd, 2012 | By
fyork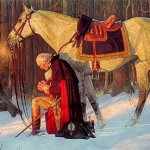 We're within days of voting in one of the most serious elections in American history.
If President Obama wins re-election, he will complete the economic destruction of our nation, push forward the gay and abortion agendas, appoint Supreme Court Justices who have no respect for our Constitution, help spread Islam around the globe, undermine our military, and bankrupt the energy industry. Our nation may never recover from his wrecking ball politics.
Pray for the clear defeat of Barack Hussein Obama.
---