Conservative Books and DVD's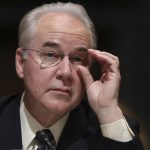 Georgia Congressman Tom Price was recently confirmed as Secretary of Health and Human Services and will oversee the dismantling of the disaster known as Obamacare.
His District 6 seat in Congress is now vacant and 18 candidates have filed to take his seat. The special election to fill his seat is April 18. If needed, a runoff election will be held on June 20.
GOP candidates include: former Secretary of State Karen Handel, political activist Amy Kremer, Mohammed Bhuivan, Keith Grawert, State Sen. Judson Hill, William Ilop and former State Sen. Dan Moody. 
Independents filing are filmmaker Alexander Hernandez and computer systems engineer Andre Pollard.
GING-PAC will be tracking these candidates and their political views before we make an endorsement.