Conservative Books and DVD's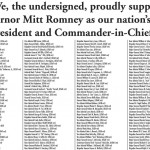 A group of 500 retired Generals and Admirals recently posted an advertisement in the Washington Times supporting Mitt Romney for President – and clearly rejecting Obama as Commander-in-Chief over the military. Obama has only six or so retired, high-ranking officers who support him – including the ultra-liberal Wesley Clark – who is a darling of MSNBC and other leftist media outlets.
The anti-Obama advertisement says:
"It is important that you're aware that this is not an ad being paid for by the Romney Campaign. Rather, it is being paid for and placed by the 500 of us who have agreed to have our names in this public ad and to take a public stand on how very important it is that our fellow Americans choose a new Commander-in-Chief in the elections this coming Tuesday.
"Please vote on Tuesday, NOT because of revenge for something, but because of 'Love of Country.'"
The list of four-star Admirals and Generals includes General Hugh Shelton, the former Joint Chiefs chairman who was appointed by Bill Clinton. Also included was General Chuck Horner, who ran the 1991 air war against Iraq.
The most prominent officer on the list was General Tommy Franks, who was head of U.S. Central Command and devised the plan for invading Iraq in 2003.
President Obama and his staff recently watched real time images of the Islamic attack on our consulate in Benghazi, Libya. During that battle, four Americans were killed and Obama didn't send any military help to save them. He lied, denied and SEALS died.
Pray for a resounding defeat for Obama today.