Conservative Books and DVD's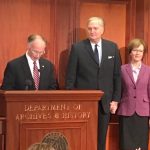 Alabama Governor Robert Bentley has recently named the Alabama Attorney General Luther Strange to take Sen. Jeff Session's seat in the Senate.
Strange heaped praise on Sen. Sessions. According to Strange: "Senator Sessions' commitment to public service is nearly unparalleled in Alabama history and his departure from the Senate leaves tremendous shoes to fill. I pledge to the people of Alabama to continue the same level of leadership as Jeff Sessions in consistently fighting to protect and advance the conservative values we all care about."
He continued: "Throughout my six years in this office, I have wrestled with the Justice Department on an endless number of oppressive federal policies stemming from a total lack of constitutional deference and respect for the states. I am confident that Jeff Sessions will do his part to restore the delicate balance between the states and the federal government that the Founders envisioned."
In 2012, AG Strange joined the EWTN Global Catholic Network in a lawsuit against the Obama Regime over its requirement that religious groups provide contraception, sterilization and abortion-including drugs in their health care plans.
Senator Strange will face election in 2018.