Conservative Books and DVD's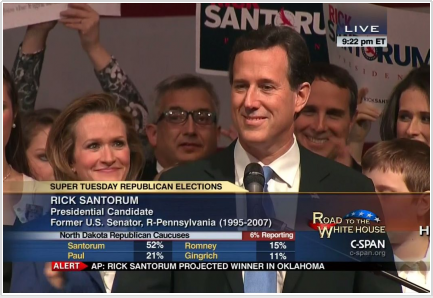 Washington State Caucuses: Santorum forced a tie with Romney in Pearce County. This is the second weekend in a row with positive delegate results for Santorum. Romney is likely to lose as many as 15 delegates from the delegate counts kept by media organizations.
Santorum and Ron Paul are earning more delegates than would have been allocated based on the non-binding straw poll that was held.
Missouri Caucus Update: Santorum leads Romney more than 2-1 in state convention delegates based on domination in rural counties. Ron Paul has moved ahead of Romney into second place.
Missouri convention delegate counts: Santorum: 1363; Paul: 824; Romney: 566; Newt: 88.
Real Count Update: Romney: 482; Santorum: 331; Gingrich: 158; Paul: 91.
Read more about the delegate counts at RedState.com.