Conservative Books and DVD's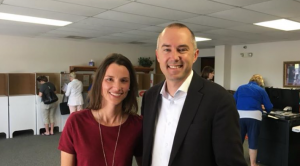 GING-PAC endorsed candidate Andy Coleman lost the opportunity to be in a runoff election for the 1st Congressional District by fewer than 1,000 votes. Coleman was the choice of the House Freedom Caucus.
He was running against several other candidates to replace GOP Congressman Jim Bridenstine who left Congress to head NASA.
Former Tulsa County District Attorney Tim Harris won the most votes, but will face off against Kevin Hern on August 25. Harris earned his law degree at Oral Roberts University.
Hern was bankrolled with his own cash and by the Republican Main Street Partnership (a front for "moderate" Republicans – in other words, liberals). He outspent Coleman 4-1.