Conservative Books and DVD's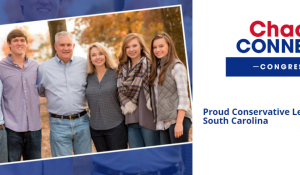 South Carolina Congressman Jeff Duncan, a GING-PAC endorsed legislator, has just endorsed Chad Connelly for Mick Mulvaney's seat in the House of Representatives.
Connelly is former chairman of the South Carolina GOP and became the national director of faith engagement for the Republican National Committee during the Trump campaign. He is one of seven Republicans seeking Mulvaney's seat. The GOP primary takes place on May 2.
According to Connelly: I've never held public office but have been a small business owner for over 20 years. After my US Army and SC Army National Guard days as a Tank Commander and Platoon Leader, I spent eight great years working in and learning about corporate America. That's when I took another leap by deciding to write a book on American Christian history and the free enterprise system. I have been working ever since to encourage Christians to engage more in the public arena.
Over the past 3½ years, I have had the privilege of traveling and speaking in over 40 states and in front of over 80,000 pastors and priests and faith leaders encouraging them to re-engage this culture and take back our land! So many of you have challenged me to do more than just talk about this engagement but to run for public office myself. Although I've worked for years as a volunteer and as SC Republican Party Chairman, I'm actually pretty new to being a candidate. I have told people who have encouraged me to run that it would have to be God Himself to make an opportunity available. With Donald Trump's historic and unpredicted win, we have been shown that opportunity.
Read more about Chad Connelly here: Chad Connelly running for Congress to fill Mick Mulvaney's South Carolina shoes – Washington Times.