Conservative Books and DVD's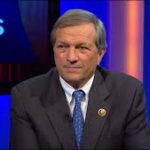 Congressman Mark DeSaulnier (D-CA) recently told an 11-year-old girl at a town hall meeting at Stanley Middle School in Lafayette, California that the most dangerous person in America isn't a terrorist, but the President of the United States.
DeSaulnier read a Q&A card from the girl, which asked the question:
"My name is Eden, and I'm 11 years old. My mom is worried about my future with President Trump. On election night, my mom cried. Kids at my school are worrying about being deported. I've read and heard awful things about him. Should I be worried about my future? As a kid, what can I do about it?"
DeSaulnier replied:
"From the mouths of babes. I think you should be concerned. This is dangerous stuff. I've said a few times, the most dangerous person in America isn't a terrorist, it's the person who's president of the United States. So Eden, you've got to read, you have to be thoughtful, and you have to be engaged."
DeSaulnier's vacuous statement was, naturally, picked up by the lamestream media and spread across the U.S. immediately.
In reality, the most dangerous people in the U.S. are liberal politicians who view our ruthless enemies as friends and view the defenders of America as enemies. Leftists like DeSaulnier live in an alternate universe where black is white and up is down.