Conservative Books and DVD's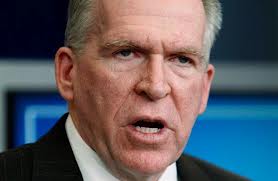 Our good friend Frank Gaffney at the Center for Security Policy has just released a video of several Islamic terrorism experts explaining why John Brennan should not be confirmed as head of the Central Intelligence Agency.
The video includes Steve Emerson, founder of the Investigative Project on Terrorism – and one of the earliest to warn America about the threat of Islamic terrorism; Andrew C. McCarthy, author of The Grand Jihad; and Lt. General Jerry Boykin, who served as former Deputy Undersecretary of Defense for Intelligence.
Andrew McCarthy, who prosecuted the blind sheikh for engineering the first attempt to blow up the World Trade Center, notes: "Making John Brennan the director of the Central Intelligence Agency is the most monumental mismatch of man and mission that I can imagine. The point of having our intelligence agencies is to make sure that we have a coherent, accurate idea of the threats that confront the United States. Unfortunately, Mr. Brennan's career, and certainly the signature that he has put on the national security component of the Obama administration has been to blind the United States to the threats against us."
Steve Emerson points out that it was John Brennan who created the Muslim Brotherhood outreach program in the U.S. and the Middle East.
GING-PAC has previously posted a video of John Brennan expressing his love for Islam and is alleged culture of tolerance. It is likely that Brennan will be a close ally of the Muslim Brotherhood, not an enemy.
John Brennan is Obama's choice to lead one of the most important agencies in the U.S. government – and his confirmation in the Senate will further jeopardize our national security – and embolden Islamic terrorists around the world. Brennan is a significant threat to our nation's future – which is probably why Obama wants him so badly.
Recommended Resources: http://www.facebook.com/ShariaFreeUSA;  Religious Freedom Coalition; The Grand Jihad: How Islam and the Left Sabotage America; The Investigative Project on Terrorism.