Conservative Books and DVD's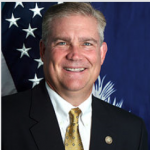 By Chad Connelly, GING-PAC endorsed South Carolina candidate for Congress.
I thought I'd share a favorite scripture for #FaithFriday, and if I had to narrow it down, Matthew 5:14-16 is one that has always spoken to me.
It reads, "Ye are the light of the world. A city that is set on a hill cannot be hid…Let your light so shine before men, that they may see your good works, and glorify your Father which is in heaven."
Isn't that kind of powerful?
You and I both know that America is the most special place in the world. But it's important that we remember our success isn't the success of man. It's the reward for being a country that has obeyed the laws set forth by the Word of God.
This means recognizing it's only through our faith and shining a light that glorifies the Lord that we achieve great things. If we put God away and hide what make us who we are as a Christian nation, we lose out on the blessings that come with practicing and living our faith.
In a world plagued by terrorist attacks, ugly political debates, and people not loving their neighbors, I think it's time we could use a lot more God. And as a nation founded on Christian values, it's our responsibility to elect leaders who will give the glory of our accomplishments to God and not man.
As Ronald Reagan once said, we can meet our destiny and build an America that's a shining city on a hill for all mankind. But it's up to each of us to shine our own individual lights so that we can collectively build a nation that glorifies God.