Conservative Books and DVD's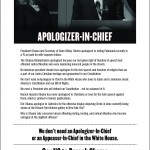 Government Is Not God Political Action Committee has just added several more newspapers to its advertising campaign against Barack Hussein Obama.
The Campaign To Save America From Barack Hussein Obama is now running ads in:
10-24 — Collegiate Times – Virginia Tech – Blackburg, VA
10-28 — The Compass – Norfolk, VA (Air Force Base and Naval Station)
10-31 — Connellsville Courier – Fayette and Westmoreland counties, PA (Coal country)
11-01 – Independent Observer – Pensacola, FL (Naval Air Station)  
11-06 – Free Lance Star – Fredericksburg, VA (Marine Base Quantico) 
GING-PAC's "Apologizer-In-Chief" advertisement shows Obama and Hillary Clinton in one of their recent Apology-to-Islam events at the White House. This disgusting display of appeasement should never again be seen at the White House.
Help us FIRE this pro-Islam Apologizer-In-Chief in November. Donate to GING-PAC today!