Conservative Books and DVD's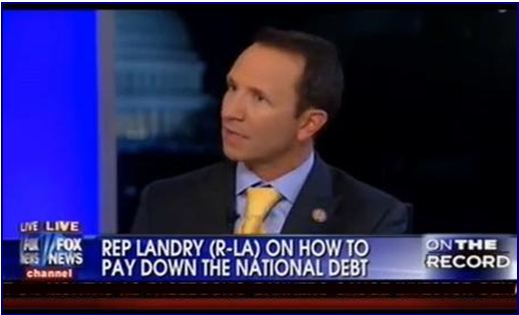 Government Is Not Political Action Committee has officially endorsed the candidacy of Rep. Jeff Landry (R-LA) for the 3rd Congressional District in Louisiana. He is part of the congressional Values Action Team in Washington, D.C.
Rep. Landry is a lawyer, small business owner, a veteran of Desert Storm, and an advocate of a strong national security and a sound energy policy. During a Joint Session of Congress, Landry boldly held up a sign for President Obama that read: "Drilling = Jobs." He has led the charge against Obama's moratorium on drilling in the Gulf.
He was recently named by the National Taxpayers Union as the "Taxpayers Friend" and was given an "A" rating by the NTU for his fight to lower taxes.
Support Landry's race for re-election by donating to GINGPAC!
Learn more about Rep. Landry by accessing his web site.