Conservative Books and DVD's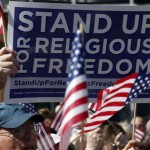 RELIGIOUS FREEDOM EXECUTIVE ORDER
Last week, a draft Executive Order on religious freedom was leaked.   It is still unclear as to when we may see something official from the White House or whether the final order will be close to the leaked version.
BILLS OF NOTE
Free Speech Fairness Act
Senator Lankford, Whip Scalise and Rep. Hice introduced the Free Speech Fairness Act (S.264 and H.R.781) to address the Johnson amendment in the Tax Code. Introduced by then-Sen. Lyndon B. Johnson in 1954, the Johnson amendment has effectively censored all nonprofit organizations and their leaders with the threat of an IRS investigation, fines or loss of tax-exempt status if they choose to engage in political speech.  The bill would ensure that all 501(c)(3) organizations, including nonprofits, charities and houses of worship are legally able to make comments about a political issue within the scope of their normal activities. The bill also requires that any expenditure related to these activities are de minimis — that is, only minimal and not outside the usual expenses of the organization — to ensure that the organization's primary function remains charitable or religious in nature. 
Conscience Protection Act
Senator Lankford and Reps. Black and Fortenberry introduced the Conscience Protection Act (S.301 and H.R.644) to protect health care providers, including health care professionals, entities and health insurance plans from government discrimination if they decline to participate in abortions. 
In August of 2014, the California Department of Managed Care (DMHC) issued a directive requiring all plans under the DMHC authority to immediately include coverage for all legal abortions even if the abortion-excluding plan had been previously approved by DMHC.  As a result abortion was immediately inserted into the plans of pro-life churches and schools without their consent. This action was taken despite the Weldon amendment which clearly states that no funds may be made available to a state if the state subjects a health care entity (including insurance plans) to discrimination because it does not provide coverage of abortion. The only recourse for victims of a violation of the Weldon amendment is to file a complaint with the Office of Civil Rights at the Department of Health and Human Services. 
Complaints were filed in the fall of 2014 by the California Catholic Conference and a group of evangelical churches  An investigation was opened in December of 2014 after pro-life Members of Congress urged the Secretary to do so. In June of last year, HHS Office of Civil Rights (OCR) released the results of its investigation into the California abortion mandate, stating it found no violation and is closing its investigation of these complaints without further action. The OCR's decision is based on a flawed reading of the Weldon amendment.  They argue that the Weldon amendment only protects health insurance plans, and not the purchasers of such plans, and state that the insurance companies have not complained.  To say that a previously existing plan that excluded abortion must be discontinued is discriminatory against the life-affirming abortion-free plan.  Whether the insurance company objects or not, the mandate is discriminatory.  Furthermore, OCR states that the insurance companies do not hold a religious or moral objection to covering abortion.  The Weldon amendment is not limited to religious or moral objections.  It is not even based on an objection being raised.  It simply states no funds may be made available to a government that subjects a health care entity (health plan in this case) to discrimination on the basis that the entity "does not provide, pay for, provide coverage of, or refer for abortion."
The Conscience Protection Act directly addresses this situation and allows victims of discrimination to go directly to court rather than the appeal to HHS when a violation has occurred.
ARTICLES TO NOTE
Justices release March calendar – SCOTUSblog
The Supreme Court released its calendar for March, including Gloucester County School Board v. G.G., which will be argued on March 28th.  Note that the Trinity Lutheran case still has not been scheduled. http://www.scotusblog.com/2017/02/justices-release-march-calendar/
U.S. nonprofits, including churches, should be allowed to take sides in politics – Washington Post
https://www.washingtonpost.com/posteverything/wp/2017/02/05/american-nonprofits-including-churches-should-be-allowed-to-take-sides-in-politics/?utm_term=.48275f5c5416