Conservative Books and DVD's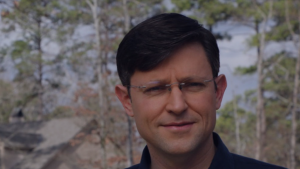 In the race for the open seat in Louisiana's 4th Congressional District, the polling leader is a widely respected, full-spectrum conservative:  State Representative Mike Johnson. 
Mike is a nationally recognized constitutional law attorney (formerly litigator and spokesman for Alliance Defending Freedom) who has an extraordinary record defending religious freedom, the sanctity of human life, conservative fiscal policy and America's founding principles.  His sky-high rankings by leading conservative and business groups, his ability to connect with voters, and his deep roots in the district make him the recognized favorite and strongest, most-electable candidate.
Mike has the best chance of defeating the lone Democrat in the state's December runoff because he brings unique advantages to the race.  For nearly twenty years, he has been persuasively communicating and advancing conservative policies and ideals in the courts, the court of public opinion, and most recently in the Louisiana Legislature.  Mike has litigated and won high profile religious liberty and constitutional law cases in courts nationwide, has authored pro-family and limited government legislation for many states and municipalities, and taught constitutional law seminars around the country.  He is a skilled debater, and has been interviewed and featured more than 2,000 times on radio and in national media outlets.  
Mike is one of five legislators named an "MVP for Business" by the Louisiana Association of Business and Industry for helping lead the fight against tax increases and bureaucratic regulations. He's received the "Family, Faith and Freedom" Award from the Family Research Council in Washington, D.C., for successfully defending traditional marriage, "Champion for the Faith" Award by the Southern Baptist Convention, and has a perfect 100% voting record with Louisiana Right to Life and Louisiana Family Forum. He is endorsed by Freedom Works PAC, Family Research Council Action PAC, Citizens United Political Victory Fund, The Conservative Leadership PAC, Gun Owners of America and is "A" rated by the NRA, the Louisiana Sheriff's Association, and many limited government and national security advocates.   
Mike is currently being out-funded in his race by radical leftists and big government advocates who are determined to prevent his election to Congress.  To learn more, or to contribute, please visit our website at:  www.MikeJohnsonForLouisiana.com.