Conservative Books and DVD's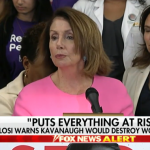 House Minority Leader Nancy Pelosi claims that the confirmation of Judge Brett Kavanaugh to the Supreme Court will bring an end to legalized baby killing, destroy civil rights and bring back segregated schools. Pelosi must have been watching old speeches by leftist Sen. Ted Kennedy when he was smearing Ronald Reagan's Supreme Court pick, Judge Robert Bork. Kennedy claimed that Bork would force women to have coat-hanger abortions in back allies.
Like Kennedy, Pelosi is lying to enrage her far left base against a Supreme Court nominee who believes judges should interpret, not make law or impose their social justice notions on Americans. Pelosi is the poster child for why the GOP must increase their numbers in the Senate and House this November.