Conservative Books and DVD's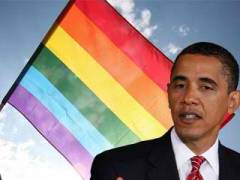 President Barack Hussein Obama and Vice President Joe Biden spent last Thursday celebrating "gay pride" at a White House ceremony – a ceremony that included two young twin girls who are being "parented" by two lesbians.
Obama used these twins as props in his effort to maintain his "gay" political base. During the ceremony, he announced that another lesbian judge had been confirmed by the Senate to serve in a lifetime post on the federal bench. Lesbian Nitza Quinones Alejandro will serve on the federal court in Pennsylvania. She's the first openly lesbian federal judge and the fifth one to openly homosexual serving in the federal court system.
According to Obama: "From Minnesota to Maryland, from the United States Senate to the NBA, it's clear we're reaching a turning point" in his goal of normalizing homosexuality in America.
In a special video on LGBT Gay Pride Month, Obama praised "gay" leaders who had "bent the arc of the moral universe towards justice." That's a clever way of saying they have turned morality upside down and violated God's moral laws in pushing for the normalization of homosexual sex acts.s
Obama, who claims to be a Christian, might want to read Romans 1:18-31.
And, he might want to read that the Lord Jesus Christ said about those who defile children: "But whoso shall offend one of these little ones which believe in me, it were better for him that a millstone were hanged about his neck, and that he were drowned in the depth of the sea." – Matthew 18:6.