Conservative Books and DVD's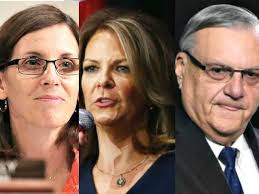 The Human Rights Campaign, one of the largest and most vicious anti-Christian groups in America, is outraged by the prospect of social conservatives winning the Arizona Senate race to replace Jeff Flake.
HRC sent out a fundraising letter yesterday lamenting the fact that Vice President Mike Pence will be heading an event in Arizona for Republican nominees Joe Arpaio, Kelli Ward, and Congresswoman Martha McSally.
The event is being sponsored by the National Republican Senate Campaign.
According to HRC, Joe Arpaio is a "convicted criminal," Kelli Ward voted to protect religious freedom against homosexual "equality" and McSally has "long opposed marriage equality."
In other words, all three believe in marriage as a union of one man and one woman and they believe in religious liberty and the First Amendment. According to HRC, these are examples of criminal bigoted behavior.
HRC supports Representative Kyrsten Sinema (AZ-9) who apparently is 100% in lockstep with the gay agenda. Now, Arizonans know who NOT to vote for.