Conservative Books and DVD's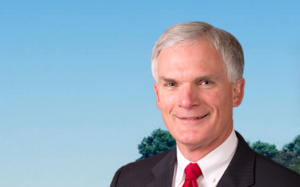 By Congressman Bob Latta (R-OH)
Memorial Day provides a time for every person to reflect upon the ultimate sacrifice that countless men and women have made in service to our nation. While every era in American history is unique – different economies, varying ways of life, ever-changing geography – there are a few constants. Throughout every period, you can find those unafraid to support the values that make our country great, and a willingness of Americans to defend those values at a moment's notice. We enjoy the freedoms we do because of those brave men and women.
I'm blessed to represent communities in Northwest and West Central Ohio that have always done their part to recognize our service members. I was privileged recently to meet with Eagle Scout Dominic Adkins in Venedocia who – even at a young age – recognized the importance of honoring those who have served our country. For his Eagle Scout project, he helped bring a 105 mm Howitzer to Venedocia Memorial Park, a place dedicated to remembering those in the community that served in the military. His reverence towards our troops – especially those who had given the ultimate sacrifice – was inspiring.
Recognizing our military heroes has always been important to me, and I've worked in Congress to ensure that we never forget those who served our nation. I spent several Congresses pushing legislation to honor the veterans of the Office of Strategic Services (OSS) with a Congressional Gold Medal, the nation's highest civilian honor. The OSS was the precursor to the CIA and conducted some of the most clandestine operations of World War II. The dangerous nature of their work behind enemy lines led to a number of OSS members paying the ultimate sacrifice. My legislation was finally signed into law in 2016 and just a few months ago, Congress recognized these veterans at a ceremony in the Capitol.
It's also past time that we fully honor the family members of those killed in action, known as 'Gold Star' families. Wives, husbands, sons, daughters, and other family members have had their lives forever changed because of the loss of a loved one in defense of our nation. I've authored legislation to dedicate a day each year to recognize Gold Star families. Until that legislation becomes law, it's important we don't forget their sacrifice on Memorial Day as well.
One way to honor those who have served our country is ensure that we are doing everything we can to support those currently serving in the military and our nation's living veterans. Over the past few weeks, I've joined my colleagues in the U.S. House of Representatives to do just that.
Last week, I helped pass the bipartisan National Defense Authorization Act, which provides needed resources to address our threats on the global stage. One of the great tragedies of recent years is that more of our troops are losing their lives to training accidents than from combat. All military deaths are tragic, but those killed because of a lack of training or subpar equipment are especially heartbreaking. It can't continue like this. We voted to reverse years of military drawdowns and provide our troops with the tools they need to be successful.
For our veterans, we passed the VA MISSION Act. This bipartisan legislation reforms and streamlines a number of VA programs and will make it easier for veterans to access the care they need. I have worked for years to improve access to cancer treatment for veterans in Ohio's 5th Congressional District. Many veterans in our area have to travel to the VA facility in Toledo and then take a bus up to Ann Arbor just to receive the treatment they need. It's an arduous process that can take an entire day. We must do better for our veterans.
With the passage of the VA MISSION Act, these veterans will be able to access care closer to home. That legislation should be signed into law by President Trump any day now.
As we think of how best to honor those who have died in service to our country, the words of Ronald Reagan ring true. He said, "We must try to honor them—not for their sakes alone, but for our own. And if words cannot repay the debt we owe these men, surely with our actions we must strive to keep faith with them."
On this Memorial Day, we remember those who are no longer with us and honor their legacy. May God bless them.