Conservative Books and DVD's

June 16, 2011 – Republican New York Rep. Ann Marie Buerkle is disgusted by the tactics of the Democrat Party in scaring seniors into thinking Medicare is being killed by Republicans.
Buerkle told Human Events recently that many of her older constituents had received robocalls from the Democratic Congressional Campaign Committee (DCCC) telling them that Republicans were going to destroy Medicare.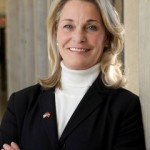 According to Buerkle, "Some of my constituents were in tears and probably can't sleep tonight because robocalls from the DCCC told them that the [House Republican] budget will get rid of their Medicare.  Those kind of tactics are mean-spirited and they lack integrity. I'm disgusted at the DCCC because, clearly, they put politics above people."
Her district office had been inundated with at least 100 calls from angry and fearful seniors about the Democrat robocall.
Rep. Buerkle, a former nurse, began answering some of the calls herself. Buerkle noted: "Some of my constituents were in tears, and asked me why Republicans wanted to get rid of their Medicare.  I explained—to several callers, in fact—that the Republican plan does not 'get rid of Medicare,' that it doesn't even affect anyone over 54, and preserves health care for the next generation of senior citizens."
Buerkle's district was one of 13 targeted by the DCCC for Mediscare robocalls to scare seniors into thinking Republicans are trying to destroy Medicare. Politico listed the names of the Republicans being targeted: Arizona Rep. Ben Quayle, Florida Rep. Dan Webster, Iowa Rep. Steve King, Illinois Rep. Bobby Schilling, New Hampshire Rep. Charlie Bass, Nevada Rep. Joe Heck, New Jersey Rep. Jon Runyan, New York Representatives Nan Hayworth and Ann Marie Buerkle, Ohio Rep. Steve Chabot, Pennsylvania Rep. Lou Barletta, South Dakota Rep. Kristi Noem and Virginia Rep. Scott Rigell."
Support the work of GING-PAC in electing women and men like Rep. Buerkle to the House and Senate in 2012!