Conservative Books and DVD's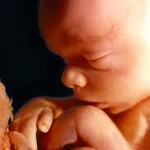 (CNSNews) – During a House Judiciary Committee hearing on Planned Parenthood's abortion practices on Wednesday, Rep. Trent Franks (R-Ariz.) described how two Planned Parenthood employees recorded during an undercover video operation removed the brain of an unborn baby whose heart was still beating.
 "One of these videos describes an incident where one of Planned Parenthood's employees calls one of the younger employees over to witness something that was 'kinda cool,' that one of the babies' hearts was still beating," said Franks.
"The older employee then said, 'Okay, this is a really good fetus, and it looks like we can procure a lot from it. We can procure a brain.' And then using scissors, together the two employees, starting at the baby's chin, cut upward through the center of this child's face and pulled out the baby's little brain and placed it in a container where it could later be sold," he said.
Watch Congressman Franks' opening statement:
Read the rest of this story at CNSNews.com.