Conservative Books and DVD's

July 7, 2011 – Missouri Congressman Todd Akin (R) refuses to retract his criticism of liberalism in a radio interview earlier this month.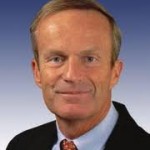 In discussing NBC "editing"  the words "under God" out of a story on the Pledge of Allegiance, Akin noted: "Well, I think NBC has a long record of being very liberal and at the heart of liberalism really is a hatred for God and a belief that government should replace God. And so they've had a long history of not being at all favorable toward many of things that have been such a blessing to our country. These powerful works have liberals enraged."
According to Akin, "This is a systematic effort to try to separate our faith and God, which is a source in our belief in individual liberties, from our country. And when you do that you tear the heart out of our country."
Rep. Akin's Communications Director Steve Taylor told the St. Louis Post-Dispatch that Akin was discussing the basic differences between conservatives and liberals on where rights come from. Liberals think rights come from government; conservatives believe rights come from God.
The differences in beliefs, says Taylor, are the "defining principles of two political ideologies."
For more details on the history of the Pledge of Allegiance and our nation's Judeo-Christian heritage, read William J. Murray's book, The Pledge: One Nation Under God. Rep. Akin wrote the foreword to this book.