Conservative Books and DVD's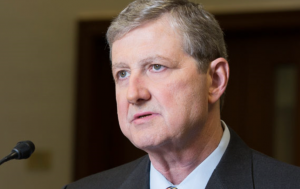 Roll Call reports this morning that Louisiana State Treasurer John Kennedy has a great chance of being elected Senator on December 10 in a runoff election. Kennedy is a social conservative who has been endorsed by GING-PAC.
According to Roll Call:
Kennedy's facing off against Democratic Public Services Commissioner Foster Campbell, who finished second in the primary. As the Democrats' last chance to redeem themselves in a bruising election year, Campbell is flush with cash and feeling emboldened by Democrat John Bel Edwards' 2015 victory in the governor's race. Even if Campbell won, though, Republicans would still control the Senate.
Kennedy paints the differences between himself and Campbell in broad, clichéed strokes. "I don't think you could have picked two candidates this side of 24 who are more unalike," he said, referring to a state highway. "Foster is Democrat, I'm a Republican. He's liberal and I'm a conservative. He supported Hillary Clinton. I supported Donald Trump. I believe in more freedom, he believes in more free stuff."
Kennedy is "almost reflexively anti-establishment," said Timmy Teepell, a Republican consultant in Louisiana. He's less likely to work within the system than some previous Louisiana senators, Teepell said, and in that respect, he's similar in personality to Texas Sen. Ted Cruz or Utah Sen. Mike Lee. The difference is that Kennedy is driven by populism more than conservative ideology. 
Read more on Kennedy's upcoming victory in Roll Call.