Conservative Books and DVD's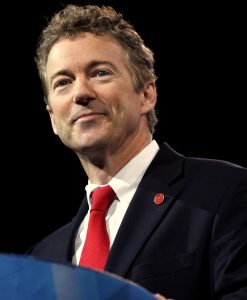 Senator Rand Paul (R-KY) is a supporter of President Trump in his efforts to deal with Islamic terrorism, but isn't supporting his multi-billion dollar arms deal with Saudi Arabia.
Paul has vowed to force a vote in the Senate over this arms deal. He recently gave Breitbart an exclusive interview explaining why.
According to Paul:
There's an arms export legislation from the 1970s and it gives the power to one senator to ask for a vote if they object to an arms sale. I think that by selling Saudi Arabia more arms, we further the arms race. We encourage more arms to be bought on both sides of the arms race. I think that there's evidence that Saudi Arabia has been involved with terrorism. One of the leaked emails from Hillary Clinton was her saying that 'my goodness, Saudi Arabia and Qatar are funding ISIS in Syria—we need to do something to get them to quit funding these radical groups. So there's a lot of evidence. There's even evidence going back to 9/11. Sen. Graham—Bob Graham—said that he thought that there was from the 28 pages and other evidence that there was a great deal of evidence pointing to Saudi Arabia's government actually being involved in 9/11.
He continued:
I think it is a good idea that he's telling and encouraging the people who live there to do something about ISIS, if Saudi Arabia would do something about it. The problem is in the past Saudi Arabia has actually been supporting radical groups like ISIS. I don't really trust them to do it. Also, in the neighboring country of Yemen, they've been indiscriminately bombing. I'm afraid they'll use some of our weapons to bomb civilians. About six months ago they bombed a funeral procession, killing 124 civilians and wounding 500. I don't want that to be done with American weapons. I think that gives us a black eye in the area and it actually may create more terrorists than it kills.
Read the full interview at Breitbart.