Conservative Books and DVD's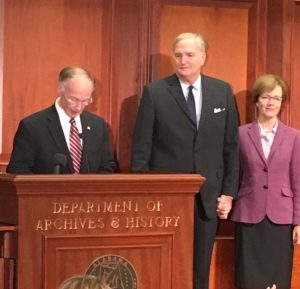 Alabama Senator Luther Strange issued the following brief statement on the failure of the GOP to repeal Obamacare last night:
"After leading the fight against Obamacare as Attorney General, I came to Washington expecting my colleagues to deliver on the promise they had made to the American people. In Alabama, your word is your bond, and tonight I kept my promise. Words cannot express my disappointment that a few Senators failed to keep theirs. For me, the fight goes on."
Sen. John McCain (R-AZ) cast the deciding vote against legislation designed to fix the mess known as Obamacare.
Sen. Strange was appointed to replace Sen. Jeff Sessions who is now the Attorney General of the United States. Strange was the former Attorney General of Alabama.
Sen. Strange now faces a special election primary challenge in Alabama on August 15. He is facing six other GOP challengers. Seven Democrats are also running for Session's seat.
A run-off election is scheduled for September 26. The general election is scheduled for December 12, 2017.
GING-PAC has endorsed Sen. Strange and will be watching this election closely.
Strange has stated his goals in the Senate as defending religious freedom, supporting the Trump Administration's agenda and repealing and replacing Obamacare.