Conservative Books and DVD's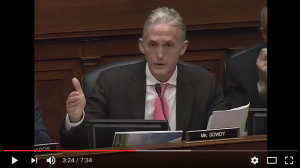 April 10, 2017
By Tesalon Felicien – The Greenville News
Trey Gowdy urges education to stop human trafficking
Congressman Trey Gowdy partnered with health and law enforcement officials to educate the public on the rise of human trafficking in the Upstate at a symposium Friday.
The congressman addressed a packed conference room of healthcare professionals, clergy, teachers and law enforcement, educating attendees on how to identify and report incidents of human trafficking.
Gowdy, a 4th District Republican whose district includes parts of Spartanburg and Greenville counties, said the Upstate has seen an increase in activity due to its proximity between Charlotte and Atlanta.
Last year in the Upstate, nine people were indicted and convicted on trafficking, said Shannon Piller, an investigator with the Greenville County Sheriff's Office. Statewide, there were close to 50 human trafficking cases, he added.
"Those who seek to do evil are often times more creative than those of us who seek to prevent it. … Contrary to some misconceptions, human trafficking does not require smuggling, it doesn't require you to cross a border, bring people from South or Central America into Southern Texas or California to work. It can happen right here. In fact, it has." Gowdy said, "It's here, here in increasing numbers,"
Read more here: http://www.greenvilleonline.com/story/news/local/2017/04/07/gowdy-urges-education-stop-human-trafficking/100160262/