Conservative Books and DVD's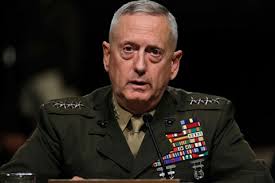 From Middle East Briefing:
When General James Mattis was named by President-elect Donald Trump as his Secretary of Defense, it was widely reported that the incoming Commander-in-Chief promised Mattis wide discretion in staffing the Pentagon. But it appears that there are limits on how far the Secretary of Defense is being allowed to stray, in making staff appointments of people whose track records clearly are at odds with the policies of the new President and his inner circle of White House aides.
Case in point:  former US Ambassador to Colombia, El Salvador, Pakistan and Egypt, Anne Patterson. It was reported last week that Mattis had passed Patterson's name on to the White House for appointment as his Undersecretary of Defense for Policy, the number three post in the Department. While no final decision has been made yet, there is considerable push-back from senior White House staff to the proposed Patterson appointment. 
The harshest criticisms of Patterson center on her close relationship with Egypt's Muslim Brotherhood (MB) and their former President, Mohammed Morsi, when she was Ambassador in Cairo from 2011-2013.
When protests erupted over the Morsi government's crackdown on protesters and his refusal to broaden the governing coalition by bringing non-Muslim Brotherhood figures in, Ambassador Patterson accepted a June 18, 2013 invitation to publicly present her views on the situation. She told a Cairo audience "I don't think the elected nature of this government is seriously in doubt," and she added she was "deeply skeptical street actions will produce better results than elections."  Weeks later, an estimated 20 million Egyptians turned out on the street to demand Morsi's ouster. 
It came after the Muslim Brotherhood had launched a violent crack-down against regime critics, deploying MB paramilitary gangs, setting up private prisons to torture opposition leaders, and ignoring pleas from allies to broaden the governing coalition, to respond to the larger demands of the Tahrir Square revolution of early 2011.
Patterson arrived as Ambassador to Egypt four months after the overthrow of President Hosni Mubarak, and she immediately established strong ties with the Muslim Brotherhood, while also keeping lines of communication open to the ruling armed forces. She became the emblem of the Obama Administration's policy of courting the Muslim Brotherhood as a "moderate" force within "political Islam," which had been enshrined in President Obama's Presidential Study Directive-11 (PSD-11) of August 2010, and the later Presidential Decision Directive-13 (PDD-13) of February 2011, which set forth a policy of opening to Muslim Brotherhood organizations in Egypt, Libya, Tunisia and Syria. In the spring of 2011, Secretary of State Hillary Clinton had announced a public opening to the Muslim Brotherhood, and she later approved a visit to Washington by a delegation of Muslim Brotherhood leaders from all over the Middle East and North Africa.
Read the rest of this story at Middle East Briefing.