Conservative Books and DVD's

THE SENATE
            MISSOURI:  GING-PAC endorsed Senate candidate Todd Akin introduced an amendment (Section 536) to the House Defense Authorization bill, saying that no member of the armed forces may "direct, order, or require a chaplain to perform any duty, rite, ritual, ceremony, service, or function that is contrary to the conscience, moral principles, or religious beliefs of the chaplain, or contrary to the moral principles and religious beliefs of the endorsing faith group of the chaplain." The amendment would protect military chaplains from being forced to perform same-sex marriages.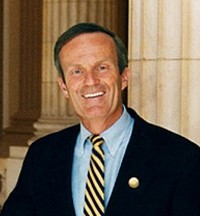 President Barack Obama has stated that he will veto the entire Defense Authorization bill if the religious rights of service members are protected. Former Speaker Nancy Pelosi said that preforming a same-sex marriage is "nothing that says that chaplains act against their faith." Pelosi and Obama believe that "religion" is restricted to Sunday morning in a church building and that once outside the church there are no such things as religious rights.
Todd Akin currently has a five point lead over Democrat Senator Claire McCaskill in Missouri. Akin leads 48% to McCaskill's 43%. Even though he leads McCaskill now, he must still win the GOP primary on August 2nd where he has two opponents.
            Congressman Todd Akin wrote the forward to one of my books, The Pledge: One Nation under God. He is a member of the Prayer Caucus which meets at the beginning of each weekly session to pray for our nation in the Capitol Building. Todd Akin cares deeply about the spiritual condition of our nation.
            TEXAS:  GING-PAC endorsed Senate candidate Ted Cruz is closing in on "moderate" candidate David Dewhurst. A recent University of Texas/Texas Tribune poll shows Dewhurst with 40% and Cruz at 31%. Cruz had been trailing the self-financed Dewhurst by 20% — so this shows Cruz is closing the gap.
            Cruz has not made a sudden appearance on the political scene as have many "Tea Party" candidates. He has a proven conservative record. From 2003-08, Ted served as the Solicitor General of Texas. In court he has defended the Partial Birth Abortion Ban on behalf of thirteen states against attacks by the ACLU and Planned Parenthood. His Internet site declares that he is 100% pro-life.
             Former Alaska Governor Sarah Palin endorsed Ted Cruz on May 10, months after his endorsement by GING-PAC. He is also endorsed by Dr. James Dobson. Your donations help us work to elect Ted Cruz to the Senate!          
          NEBRASKA:  Conservative Deb Fischer won the GOP Senate primary. Fischer is a rancher and conservative businesswoman. Her win is described by the Omaha World-Herald as one of the biggest upsets in Nebraska political history! She will be facing retread Nebraska liberal Bob Kerrey who has spent the last decade living in New York City.
            Fischer currently serves as a state legislator for the 43rd legislative district. She has a conservative record of keeping taxes low, reducing wasteful spending and protecting family values. A true social conservative, at her campaign web site she states: "I am proud to be pro-life and have a 100% pro-life voting record in my 8 years in the Nebraska Legislature.  I will continue to support a culture of life by supporting pro-life policies in U.S. Senate."
THE HOUSE

            FLORIDA: Democrat Patrick Murphy's campaign claims an internal poll shows him tied with Republican U.S. Rep. Allen West. In the last Campaign Update I sent details of the redistricting and how it affects House elections this fall. West previously won in the Palm Beach-Broward 22nd District, but after redistricting changed the boundaries, he is running in the brand new 18th District.
            The Democratic National Congressional Committee lists Congressman Allen West as their number one target. Why? The Democrats don't want any high profile conservative African-Americans in public office. In the view of the Democrat establishment African-Americans are bought and paid for, and they view West as "off the plantation."
            Allen West is also a retired, decorated Army colonel and a man dedicated to the Lord. He has spoken out numerous times against the advance of Sharia law in the United States and stands firmly opposed to same-sex marriage. GING-PAC must remain fully involved in this race. It is a must win for social conservatives.
To see the full list of House candidates please check at www.gingpac.org!

THE PRESIDENCY
WHO IS VOTING AGAINST OBAMA IN THE PRIMARY? – Obama lost 42% of voters in his last two primaries, just weeks after almost losing to a jail inmate in West Virginia.
In a Democrat primary in Kentucky recently, 42% of voters preferred "uncommitted" to Barack Obama. Literally two out of every five Democrats voted for "uncommitted."  While Obama received 58 percent of the statewide vote he lost 67 of the state's 120 counties. Obama lost in a majority of Kentucky counties in his own primary!
Steve Robertson, who heads the Kentucky state GOP joked: "I'm at a victory celebration for 'uncommitted' who performed admirably. I've never met the guy but know that he highly embarrassed Obama." Robertson says that the "Democrats of the Democrats" said NO to their president in the primary.
Obama has now lost at least some of the counties in each of three recent primary elections. He has a strong challenger in the Texas primary (who also won 43% of the vote in Arkansas). The establishment media has refused to report on the difficulties Obama is having in the Democrat primaries. When left-leaning media have reported on the votes, they have simply blamed Obama's poor showing on "racism." The real reason is probably Barack Obama's declaration that God is wrong, and that two men should be able to marry.
While Obama's bad news is good news for conservatives running for the House and Senate, we're still fighting a well-financed and ruthless political enemy.  GINGPAC is supporting numerous candidates this year and we need more than $10 and $20 contributions.
To fight the more than one billion dollars the Democrats will spend this cycle, I need your help. Please consider a larger contribution this month. Thank you and God bless you.
William J. Murray, Chairman
Government Is Not God – PAC
P.O. Box 77237, Washington, DC 20013
WWW.GINGPAC.ORG