SENATE
Steve Lonegan Wins New Jersey GOP Primary For U.S. Senate – New Jersey Governor Chris Christie botched an opportunity to appoint a strong conservative to the U.S. Senate to serve out the term of Frank Lautenberg, who died on June 3rd, 2013.  Instead, Christie appointed an interim Senator and called for an unnecessary special election. Christie, who has a record of kissing up to Obama, undermined the Republican Party in New Jersey and hurt the minority party in the U.S. Senate by not making an appointment of a Republican.
The good news is that Steve Lonegan, former Mayor of Bogota, New Jersey and a strong social and fiscal conservative, won the GOP primary for the U.S. Senate on August 13th.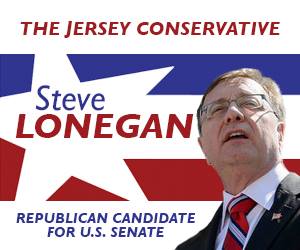 Lonegan is an advocate for limited government, free enterprise, the right to life, and supports marriage as a union of one man and one woman. Lonegan says he will work to defund and repeal Obamacare and will fight against the IRS targeting of conservatives and the NSA spying program. He is also an enemy of the Common Core curriculum, which is an authoritarian educational program that will put the federal government in control of what our children are taught. Lonegan is a supporter of school vouchers and tax credits for parents. 
Lonegan is a defender of the Second Amendment's protection of the right to keep and bear arms and opposes new federal gun control laws. He opposes illegal immigration and amnesty for lawbreakers who have entered our country illegally.
[button link="https://www.gingpac.org/support-ging-pac" text="Help elect real conservatives – Donate to GING-PAC today" size="small" alt="off"]
The bad news is that his Democrat opponent is buddy-buddy with both the "moderate" Republican Governor Chris Christie, and President Barack Obama. Newark Mayor Cory Booker was the anointed liberal candidate for Senate and will face Lonegan in a general election to be held on October 16, 2013.
Booker is a pro-abortion, same-sex marriage supporting Obama booster who will work to expand the welfare state if elected to the Senate. Booker is the darling of the media and the late night talk shows. Because he is actually black, not a Caucasian African-American like Obama, we can expect the race card to be used constantly by the liberal media. To give just an idea of the media bias, the headline at ABC's news site was "Cory Booker Wins New Jersey Senate Democratic Primary." After several paragraphs of the glories of Booker, it was mentioned that Lonegan "also won" the GOP primary.
We at GING-PAC are currently looking into playing an active role in the general election in conjunction with other Washington, DC based conservative organizations. I am hoping to meet with Steve Lonegan before the end of August.          
 South Carolinians Lining Up Against Senator Lindsey Graham – In South Carolina, several candidates are lining up against the re-election of incumbent Senator Lindsey Graham who has become the twin of Senator John McCain in the U.S. Senate. Graham backed the arming of Islamists in the Sudan and was part of the Amnesty "Gang of Eight" along with McCain.
Among those coming forward to challenge Lindsey Graham in the primary are Nancy Mace, who describes herself as a conservative; Richard Cash, who says that Christianity, Capitalism, and the Constitution have made our nation great; and state Senator Lee Bright, who has described Graham as a community organizer for the Muslim Brotherhood.
GING-PAC has not yet endorsed a candidate to assist in this race, but it will not be Graham for another term in the Senate. He has been an unreliable vote and was the only Republican Senator on the Judiciary Committee who voted for Obama's Supreme Court nominees Elena Kagan and Sonia Sotomayor – both judicial activists – who now have lifetime positions on the U.S. Supreme Court. Graham's credentials are not conservative and we fear where he would go in yet another six year term.
As an example, Lindsey Graham and John McCain recently traveled to Egypt and urged the interim government to release members of the Muslim Brotherhood from prison. Graham and McCain believe the violent and ruthless Muslim Brotherhood is secular in nature and they do not understand the organization's Islamic roots.
HOUSE
Seeking the truth about the IRS – GING-PAC endorsed Congressman Jim Jordan (R-OH) is aggressively working to find out the truth about IRS official Lois Lerner's key role in the targeting of conservative, Christian and Tea Party groups during the past four years. Jordan wants all of the emails from Lerner's official as well as her private accounts to discover how high up this corruption went in the Obama Administration. The IRS, of course, is stonewalling Jordan.
Congressman Jordan has also been involved in congressional hearings on the Benghazi, Libya massacre last September 11, when four Americans were gunned down by Islamic terrorists. He is outraged by the Obama Administration's cover up of this scandal.
Telling the truth about ObamaCare – GINGPAC endorsed Congressman Louie Gohmert (R-TX) was on "This Week With George Stephanopoulos" recently to discuss his efforts to defund Obamacare. He mentioned Obama's recent claim at a new conference that GOP members want to keep 30 million people from having health insurance. According to Gohmert: "That's a false narrative. He said that we're trying to keep people from having health care. That's just not true. That is an absolute blatant lie. We are not trying to keep anybody from getting health care and whether or not they have insurance under an exchange or not does not prevent people from getting health care."
Louie Gohmert has also taken a stance on the Muslim Brotherhood and Islamic tyranny. Gohmert gave a lengthy speech on the House floor concerning the Islamic push to establish a new global Islamic Caliphate throughout the world. Gohmert warned that we're witnessing "the rise of a new Ottoman Empire in the Middle East, which, unfortunately, the Obama Administration has helped jump-start."
[button link="https://www.gingpac.org/support-ging-pac" text="Help elect real conservatives – Donate to GING-PAC today" size="small" alt="off"]
Congressmen protecting legislative prayer – GING-PAC endorsed Congressman Randy Forbes (R-VA) and 85 members of the Prayer Caucus of the House of Representatives filed an amicus curiae brief with the Supreme Court in the case of Town of Greece v. Galloway, supporting the constitutional practice of legislatures opening their sessions with prayer. The brief points out that "Congress opens its daily sessions with legislative prayer, a practice that is fully consistent with the Establishment Clause." The brief urges the Court to find that opening legislative meetings at the State and local level is Constitutional.
Please support the ongoing work of GING-PAC in funding the campaign efforts of committed social conservatives in the House and Senate. Help us take back the Senate! Donate to GING-PAC today by mail or online at www.GINGPAC.org!

William J. Murray, Chairman 

Government Is Not God – PAC
P.O. Box 77237, Washington, DC 20013
WWW.GINGPAC.ORG