Welcome to Third World Politics – Part 2
The West Goes Third World: What do former president Donald Trump and former prime minister of Scotland Nicola Sturgeon have in common?
Both Donald Trump and Nicola Sturgeon face charges lodged by political opponents. The same week that Donald Trump was indicted by a Grand Jury for his handling of classified documents, Nicola Sturgeon was arrested, questioned for seven hours by police, and released.
Trump and Sturgeon join a group of other former world leaders being charged with crimes by political opponents who control legal authorities such as police or in Trump's case a totally politicized Justice Department which includes the FBI.
The current president of Brazil, Lula da Silva was actually jailed in 2018. He spent two years in jail, got out, ran for president, and won last year.
Now Lula da Silva is trying to jail his immediate predecessor Jair Bolsonaro.
Back in America it gets more nuts when it comes to Trump.
The New York prosecutor's case against President Trump flat out stinks. There is no law against non-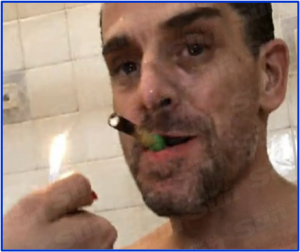 disclosure agreements, yet prosecutor Alvin Bragg, has spent hundreds of thousands of dollars to make a case against Trump. Meanwhile charges were dropped against a young rap singer who shot a cop.
Meanwhile President Biden's crack- smoking son Hunter, who helped arrange a five-million-dollar windfall for the Biden family, probably by corrupting his dad's position of vice president, is selling alleged art for hundreds of thousands of dollars each. Hunter's "art" has sold for as much as $500,000 per painting.
An example of his "art" is on the right. The buyers are secret, and no paintings are on display after they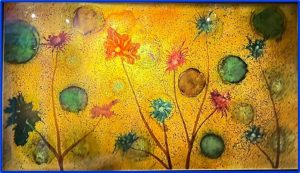 are sold.
Are the buyers of these outrageously costly paint splatterings given access to President Biden? What favors are exchanged? Is Hunter even paying tax on the payments? All that is secret.
Are the paintings even by him? Has anyone witnessed him actually painting any of these?
The mainstream media has been so busy beating up on Donald Trump they haven't had time for Biden family corruption. The press has, however, managed to wedge in attacks on Governor Ron DeSantis and Senator Tim Scott who are also running for president.
The Biden Administration's allegations against President Trump in the handling of classified documents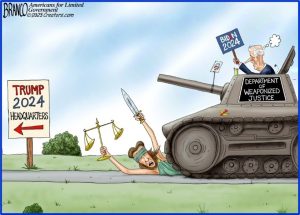 pales in comparison to Hillary Clinton, who, as Secretary of State, conducted most of her department's business on a private mail server that was compromised by virtually every intelligence service in the world.
The entire Hillary mail server debacle has been forgotten. The FBI was internally so anti-Trump I do not believe they would have carried out any orders from President Trump to investigate Clinton while he was in office.
The FBI has gone far left and gone woke.
There are FBI agents who would be willing to be whistleblowers, but they fear for their lives. Being a conservative in the FBI means the end of promotions.
The Biden Administration has become a cancer killing our republic.
Senator Tim Scott: Most GING-PAC supporters back either President Donald Trump or Governor Ron DeSantis. Regardless of who you are behind I would urge you to also send at least a small donation to Senator Tim Scott's presidential campaign as well. He is a better preacher of the Gospel than some ordained ministers I know. Let's help him spread the Good News!
The best outcome for America can come if conservatives take back the Senate and expand power in the House passed by a six-seat majority. I am going to double down on winning Senate and House seats in 2024 and I hope you will join me in that battle.
Because of your support, I have the ability to personally meet with those candidates and urge them to promote social conservative values and religious freedom. Please send a donation by return mail or donate today at GINGPAC.ORG. Thank you!
William J. Murray, GING-PAC Chairman
www.gingpac.org