The Senate: Little hope left for GOP takeover
Pennsylvania: This is a seat being vacated by Republican Pat Toomey. There was virtually no way for the Republicans to lose this seat — until a Muslim who is a Turkish citizen won the GOP nomination. Instead of a pickup, it clearly looks like the Pennsylvania seat goes to the Democratic candidate, who is still recovering from a stroke and can't even campaign.
Georgia: Until a special election held in 2020, this was a Republican Senate seat and should have been easy to get back. The GOP candidate is Herschel Walker, a former NFL football player and restaurant owner. As a leader in the black community, he has preached on the need for black men to stay with and to raise their children.
Then, after winning the GOP nomination, he admitted to having several children by different women whom he has little or no contact with. Just like with Dr. Oz in Pennsylvania, the odds now are not good for him to win the Senate seat back for the Republicans.
Some Good News
Ohio: This is a Republican seat we can keep and elect a good social conservative.
GING-PAC has endorsed social conservative candidate for Senate J.D. Vance
and donated to his campaign.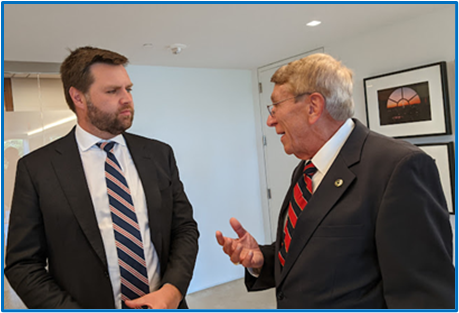 I have met with J.D. Vance, the Republican nominee, and he is solidly pro-life and supports traditional family values. He stands against the "trans" agenda that is promoting sex changes for children as young as four years old. Vance pledges to work to stop the indoctrination of our children in the public schools
In our conversation he made it clear that his agenda in Washington would focus on a social conservative, pro-family agenda
On his Internet site Vance states: "I am 100 percent pro-life, and believe that abortion has turned our society into a place where we see children as an inconvenience to be thrown away rather than a blessing to be nurtured. Eliminating abortion is first and foremost about protecting the unborn, but it's also about making our society more pro-child and pro-family"
You may be familiar with J.D. Vance from his book Hillbilly Elegy, which will be released as a Netflix movie. Learn more about him at WWW.JDVANCE.COM.
Inflation Reduction Act?
            The claim: The Inflation Reduction Act will reduce inflation by authorizing the government to spend an additional $700 billion while raising taxes on individuals and corporations.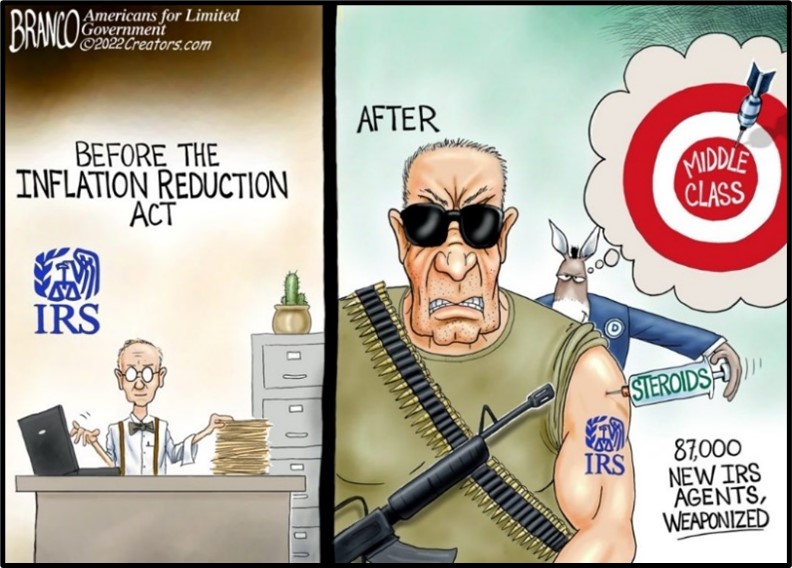 The Reality: More money in circulation means higher inflation. That is the history of money, and it is not going to change now, just because the Democrats make this ridiculous claim.
            Their biggest lie: That hiring 87,000 new IRS agents to audit average citizens will bring in plenty of tax dollars to pay for all the new windmills, solar farms and battery factories authorized by this boondoggle of a spending bill.
            This nutty logic has to go out the door right along with Speaker Nancy Pelosi. The best way to do that is to elect real conservatives to Congress. In my view, real conservatives are social conservatives who are pro-life and pro-traditional family.
            Republican candidate for Congress Yesli Vega will help move Pelosi out the door!
            Yesli Vega is working to unseat former CIA operative Abigail Spanberger in the 7th district of Virginia. Spanberger worked for the Saudi Academy (Funded by Saudi Arabia) after leaving the CIA. The Saudi Academy is driven by hatred of all that is not Muslim. One former graduate is in prison for planning the assassination of President George W. Bush.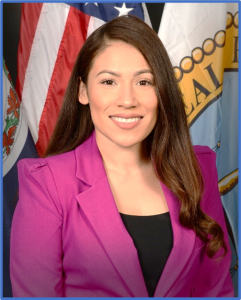 Yesli Vega called me shortly after winning the GOP primary in Virginia. After she expressed her pro-life and pro-family positions, I determined that GING-PAC should endorse Yesli and help fund her campaign.
            This seat was a GOP seat until it was literally thrown away by a seated congressman who didn't bother to campaign. It is winnable, but the Democrat Party is pouring millions into the race to save Spanberger.
You can support Yesli directly at www.YesliVega.com. To be effective in the general election in 2022, GING-PAC will need your support.
Please send a donation by return mail or donate today at GINGPAC.ORG  Thank you!
William J. Murray, GING-PAC Chairman
www.gingpac.org