Nancy Pelosi: Masks for you but not for me — and not for my donors
            Napa Valley, California is a favorite of California liberals and a great place for a fund-raising event. And there is Nancy standing maskless at the head of the table. None of the more than 100 guests at her fund raising luncheon wore masks. I have photos of the other tables but can't display them on the Internet bcause of copyrights.
            The photos can be seen at the New York Post.
Do you see any social distancing? I don't. Some of these folks gave gifts for as much as $29,000 each to the Democrat Party to be able to shake hands and have photos with a maskless Speaker Pelosi.
This is another great example of "do what I say, not what I do" among liberals.
Nancy Pelosi is yet another rich  liberal who lives in a multi-million dollar home while claiming to be working to stop poverty.
Another example: Marxist Patrisse Khan-Cullors, the 37-year-old agitator and co-founder of the Black Lives Matter movement, purchased a home for $1.4 million in Topanga Canyon in California. Wonder if she was at the Pelosi event? Probably not, since she sees Nancy Pelosi as too conservative.
Same state: Governor Newsom was pictured eating at a fund-raising dinner at an expensive French restaurant in Yountville, California on November 6, 2020 while plainly not following his own COVID-19 protocols he had set forth for the state. No masks, and everyone sitting just as close  together as in the above photo of Nancy and her followers.
Now sit back and watch these same liberals attack Governor DeSantis of Florida for leading his state back to economic recovery!
SPECIAL ELECTIONS
            Ohio 15th Congressional: The 15th in Ohio is a battleground district. The seat became vacant when congressman Steve Stivers (R) resigned to become the President and CEO of the Ohio Chamber of Commerce, effective May 16, 2021.
            A great pro-life candidate, Mike Carey, who stands for traditional family values won the August 15th primary on the Republican side, while a far-left Democrat, Allison Russo, is his opposition. She of course is pro-abortion and sees no problem with the entire population of Haiti moving to Ohio. We support pro-life candidate Mike Carey!
The home page of Mike Carey's Internet site plainly describes him as "… a man of faith and family. As a Christian, Mike is proudly pro-life and a father of two."
He goes further to explain his positions on values important to social conservatives:
As a father, I believe that life is precious and must be protected. 
It's unconscionable that the Democrats caved to Planned Parenthood and excluded the Hyde Amendment from their $1.9 trillion spending bill, allowing your tax dollars to fund abortions. Even worse, Joe Biden revoked the Mexico City Policy, allowing your tax dollars to fund abortions in foreign countries. 

The government should not be in the business of abortion. 
            Mike Carey also wants to stop anti-American curriculum in our public schools. This is what  Mike has to say about CRT and other nonsense being taught in our schools:
This nation was founded on freedom and the belief that all men and women are created equal. We should not be teaching our children to hate America or to oppose one another based on race or gender. We may not be perfect, but our history proves that we are the greatest nation on the planet. 
            Another of Mike's postions is to stop the mass illegal immigration over our southern border.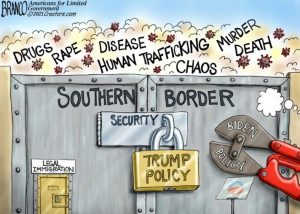 President Trump has endorsed Mike.
            You can directly support Mike Carey at www.MikeCarey.com
GING-PAC is staying out of the special election in Florida which is for a solid Democrat seat. More elections are on the horizon.
To participate in special elections this year and next, GING-PAC will need your support. Please donate today at GINGPAC.ORG Thank you!
We need congressmen and Senators who honor traditional family values!
William J. Murray, GING-PAC Chairman
www.gingpac.org