Conservative Books and DVD's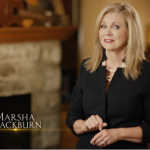 Project Veritas recently published an undercover video showing Phil Bredesen campaign workers discussing his lies about supporting the confirmation of Brett Kavanaugh to the Supreme Court. The leftist operatives admit that he's lying for political reasons to get votes from moderates in Tennessee for his race against Marsha Blackburn.
Currently, Blackburn is 14 points ahead of him — due in part — to this Project Veritas expose. If he is willing to lie about Kavanaugh, what else is he going to lie about? Bredesen was hand-picked by crying Chuck Schumer to replace useless Bob Corker in the Senate.