Ohio: This is a Republican seat we can keep and elect a good social conservative.
GING-PAC has endorsed a social conservative candidate for Senate J.D. Vance and donated to his campaign.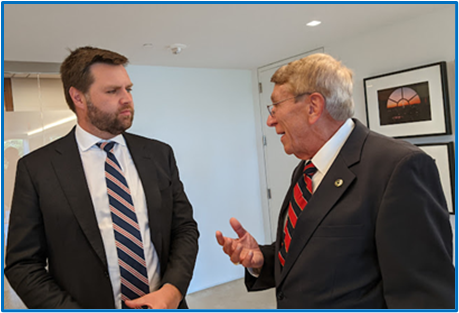 I have met with J.D. Vance, the Republican nominee, and he is solid pro-life and supports traditional family values. He stands against the "trans" agenda that is promoting sex changes for children as young as four years old. Vance pledges to work to stop the indoctrination of our children in the public schools
In our conversation, he made it clear that his agenda in Washington would focus on a social conservative, pro-family agenda
On his Internet site, Vance states: "I am 100 percent pro-life, and believe that abortion has turned our society into a place where we see children as an inconvenience to be thrown away rather than a blessing to be nurtured. Eliminating abortion is first and foremost about protecting the unborn, but it's also about making our society more pro-child and pro-family"
You may be familiar with J.D. Vance from his book, Hillbilly Elegy, which will be released as a Netflix movie. Learn more about him at WWW.JDVANCE.COM.