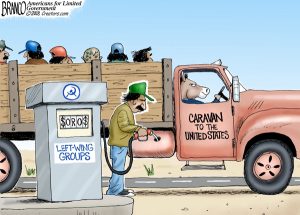 Legislation would prevent anyone who enters the U.S. through an illegal entry point from seeking asylum
Rep. Louie Gohmert (TX-01) released the following statement regarding his bill, the Asylum at Designated Arrival Ports and Terminals (ADAPT) Act of 2018 (H.R. 7139), which requires that requests for asylum shall only be made at designated ports of arrival:
"America is facing an invasion at our southern border that promises to be followed by more massive caravans. Our asylum system was never meant to add hundreds of thousands more each year to over one million lawful visas that the United States provides. There are apparently groups who are funding thousands of people at a time to invade the United States without lawful right to do so. No other country in the entire world or in history is as generous with access to a country as the United States . Yet, asylum abuse has become a way to flaunt U.S. law and overwhelm our immigration system and bring down the greatest, most successful effort in self-government the world has ever known."
"This has to end now before it destroys the most desirable country to enter. My bill, the Asylum at Designated Arrival Ports and Terminals, or ADAPT Act, complements President Trump's recent proclamation by requiring all asylum seekers to apply at a designated port of arrival immediately upon entry. By requiring asylum applications to be made (1) immediately, and (2) only at ports of arrival, illegal border crossers will no longer be able to game the system upon being caught."
"The combination of a border wall where it is needed, President Trump's proclamation, newly released DHS / DOJ rules, and this bill will finally allow us to virtually end the unsustainable illegal entries into our country."  
Congressman Gohmert is the Vice Chair of the Judiciary Subcommittee on Crime, Terrorism and Homeland Security, as well as the Vice Chairman of the Natural Resources Committee. Prior to being elected to serve in Congress, he was elected to three terms as District Judge in Smith County, Texas and was appointed by then Texas Governor Rick Perry to complete a term as Chief Justice of the 12th Court of Appeals.