GING-PAC INITIATES NEW ATTACK AD AGAINST 
OBAMA'S APOLOGIES TO RADICAL ISLAMISTS!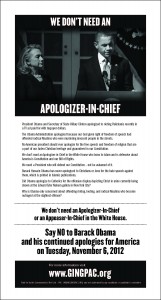 Another newspaper ad campaign has been launched by GING-PAC against Barack Obama – showing that he is the "Apologizer-in-Chief" for America's greatness.
With only days left before the November elections, we urgently need your assistance to place these ads strategically around the nation! 
The ad copy describes how Obama and Hillary Clinton routinely apologize to radical Muslims for our nation's heritage of free speech, our economic power and our military strength around the world.  But, they never apologize to Christians for the offenses committed against them by Muslims around the world.
This is our last-ditch effort to save our freedoms and our U.S. Constitution via our presidential elections through these national ads.  
Check here to see what newspapers GING-PAC Apologizer-in-Chief ad is now running. Dates and locations are shown! 
Please give generously to make sure these that GING-PAC can place ads in key newspapers in battleground states such as Colorado, Florida, Ohio and Virginia.
TODD AKIN RECEIVES MORE BACKING; POLLS SHOW MORE VOTERS
Despite the denial of the so-called "Republican establishment," GING-PAC supported Todd Akin of Missouri has received the overwhelming backing of Conservatives who understand that the United States Senate must be taken back from Harry Reid's control.
Akin's opponent, Claire McCaskill, is an "Obama-lover" whose socialist ideas will continue to damage our nation. GING-PAC has supported Todd Akin from the get-go. 
Conservative supporters are finally coming on board with Akin, which is making a real difference in the neck-and-neck polls with McCaskill.  First, Newt Gingrich came to Missouri to support him.  Then, SC Senator Jim DeMint and his Senate Conservatives Fund came on board with Akin.  DeMint writes: "Akin is 100% pro-life and made a mistake in how he explained and defended his position.  He quickly apologized…Todd Akin is now officially the Republican candidate who will face liberal incumbent Senator Claire McCaskill (D-MO).  The race in Missouri appears to still be winnable." Support Todd Akin!
WATCH THIS SENATE RACE!
HARRY REID SEEKS TO DEFEAT SENATE CANDIDATE RICHARD MOURDOCK
Dingy Harry Reid, the liberal corruptocrat from Nevada, is using his SuperPAC to funnel $1 million into an effort to defeat Indiana Senate candidate Richard Mourdock (a GING-PAC endorsed candidate).
 Reid's outfit is buying ad time to smear Mourdock as an extremist and to lie about his views on such issues as Social Security and Medicare.
GING-PAC friend Senator Jim DeMint (R-SC) is defending Mourdock against Reid's attack ads. He says of Mourdock: "I've met with Richard Mourdock several times and gotten to know him personally. He's not extreme. He's a steady, principled leader who deeply cares about the future of this country."
DeMint also comments about Joe Donnelly, the Obama liberal who is challenging Mourdock: "Richard Mourdock's opponent — Congressman Joe Donnelly — is your typical Washington liberal. In his six years in Congress, Joe Donnelly has never met a bailout he didn't like and has voted repeatedly to expand the size and scope of government. Joe Donnelly is trying to fool Hoosiers into believing he's independent, but he voted for Obamacare, the stimulus, and the Wall Street bailout. That's not independent; that's extreme."              (See other side for more)
ARIZONA SENATE CANDIDATE JEFF FLAKE WINS NRA ENDORSEMENT
Social conservative Senate candidate Jeff Flake of Arizona recently won the endorsement of the National Rifle Association, for his strong defense of the Second Amendment to the Constitution.
According to NRA Executive VP Wayne LaPierre: "Jeff Flake is committed to protecting the Right to Keep and Bear Arms guaranteed to all Americans. Because of his strong dedication and voting record, he has earned an "A" rating and endorsement from the NRA-Political Victory Fund."
The NRA endorsement and the cash that will flow into his campaign as a result shows that the Karl Rove establishment view that social conservatives don't get mainstream GOP support is a total myth. Most social conservative candidates also favor lower taxes, border defense and Second Amendment rights.
GING-PAC will continue to support solid candidates such as Jeff Flake.
REP. STEVE KING LAMBASTS OBAMA OVER LIBYAN TERRORIST ATTACK
GING-PAC candidate Rep. Steve King (R-IA) recently blasted President Obama over his apologies for offending Muslims after the Islamic terrorist murder of our Libyan Ambassador and three other Americans.
King's editorial was published in the Des Moines Register in late September. According to King: "We shouldn't apologize to anyone who kills innocent Americans. Instead of apologies, we need leadership. But President Obama has not led.
"His administration has conveyed a devastating image of a weak and apologetic America to our friends and enemies around the world. He has not provided a clear vision for the future of the Middle East and North Africa. Weak foreign policy — especially as it pertains to this troubled and volatile region — has helped plant the seeds and fan the flames of the violent actions of emboldened radical groups throughout the region."
We MUST keep Steve King in the House as he holds a key post in the Judiciary Committee which he has used to expose Obama's radical pro-Muslim Brotherhood agenda. Iowa lost one House seat and King's new district is more liberal. We must help him!
MICHELE BACHMANN TIED FOR LEAD, POLLS INDICATE
Rep. Michele Bachmann's heavily-funded, pro-union opponent is all out to beat her on election day. The national Democratic "attack machine" is in full-throttle as they see a possibility of Bachmann's defeat.  In fact, the recent poll shows a TIE between the two candidates.  Michele's opponent is reportedly worth $111 million, and he is using all his financial forces to defeat this Tea Party activist.  Her opponent's fortune is fighting against the principles of Government is Not God-PAC which whole-heartedly supports Michele Bachmann! Donate to Bachmann now!
ALLEN WEST UNDER FINANCIAL "ATTACK" FROM SUPER PAC'S
George Soros and Nancy Pelosi have vowed to defeat Allen West, at any cost!  Allen's support of Tea Party principles are a real "thorn in the flesh" to these affirmed liberals.  They want their seemingly "unlimited" monies to get rid of this American hero.  The Pelosi big-government agenda appears to be more ANTI-West than even Pro-Obama—that's how serious they are to uproot this Tea Party favorite, Allen West.  He needs our continued support!
LET'S MAKE OBAMA A ONE-TERM PRESIDENT LIKE JIMMY CARTER!
Do you fully support the idea of Barack Hussein Obama being a ONE-TERM president?
GING-PAC is the only political organization working to turn out conservatives in small towns and rural areas.  We must have your financial donation right now to take a stand against Barack Hussein Obama. Fill in, tear off and send in the response slip below…to help turn this country around! Donate today!
William J. Murray, Chairman 
GOVERNMENT IS NOT GOD – PAC
P.O. Box 77237, Washington, DC 20013
WWW.GINGPAC.ORG