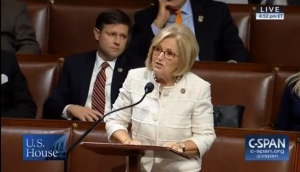 U.S. Congressman Diane Black (R-TN-06) has introduced the Zero Tolerance for Illegal Entry Act, which would make illegally entering the United States for the first time a felony and would permanently mandate the E-Verify system for employers, creating less incentive for illegal immigration.
"The United States government should never prioritize illegal immigrants over American citizens. We must have a zero tolerance policy when it comes to illegal border crossings and sanctuary cities, and we must give ICE the resources they need to do their job as they protect our nation. By no longer creating incentives to come to our country unlawfully, we also discourage families from sending their children on an often dangerous journey to reach our southern border.
The Zero Tolerance for Illegal Entry Act works hand in hand with law enforcement to ensure that we are doing all we can to uphold the dignity of our border. President Trump has been clear about illegal immigration from day one, and we know that he is committed to protecting our nation for future generations. We must do all we can to deter the criminal abuse of our border – it has gone on for far too long."
NumbersUSA released the following statement in support of Congressman Black's legislation:
"NumbersUSA applauds Congressman Diane Black's "Zero Tolerance for Illegal Entry Act," which would protect American jobs, reduce illegal immigration, and hold sanctuary jurisdictions accountable for obstructing the enforcement of Federal immigration law."
It is currently a misdemeanor to illegally cross the border under United States immigration law, and offenders receive six months of incarceration. The bill would establish a minimum prison sentence of one year and one day, making illegal entry a felony. The Zero Tolerance for Illegal Entry Act permanently mandates E-Verify to ensure that employers hire eligible and legal employees, and includes language explicitly stating that the E-Verify system can only be used for purposes of verifying a potential employee's eligibility. The bill also rescinds funding from sanctuary cities and redirects it to Immigration and Customs Enforcement (ICE).
In addition to NumbersUSA, the Zero Tolerance for Illegal Entry Act is supported by the Federation for American Immigration Reform (FAIR).
Click HERE to view bill text.