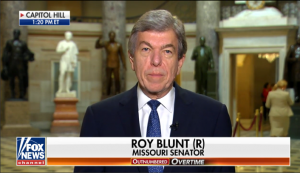 Yesterday, Missouri Senator Roy Blunt (R) announced his retirement as chairman of the Senate Values Action Team and announced that Oklahoma Sen. James Lankford will replace him. He will continue serving as co-chair.
The VAT has been active in promoting social conservative principles and policies in the Senate for years. Sen. Blunt lays out some of the important work of VAT in a letter he published on January 10:
January 10, 2018
Dear Friends at the Senate Values Action Team:
After seven years serving as chair of our group, I am proud of what we have been able to accomplish together and the relationships that have been strengthened as a result of our convening each month. I look forward to our continued partnership and close collaboration as I transition to the role of co-chair.
Since coming into this role in 2011, I've expanded Senate VAT's leadership and convened a panel of senators who have each brought incredible influence and dedication to this work. Together, we moved out of the minority in the Senate and ultimately welcomed a governing majority in 2016. President Trump and his administration have embraced our mission to protect life and religious freedom, and many of the friends that have sat around our table are now implementing VAT priorities in federal agencies, defending those policies in court, and even sitting on judicial benches.
We fought and won debates over the Hyde Amendment when we considered the Justice for Victims of Trafficking Act and reauthorized funding for community health centers. By overturning President Obama's parting gift to Planned Parenthood, we made sure states like Tennessee, Missouri, Oklahoma, and Indiana can direct their family planning dollars as they see fit, and no future administration can put a similar policy in place. This month, we're advocating that the Senate take its first-ever pro-life vote to coincide with the annual March for Life.
The Senate Values Action Team was closely involved in the beginning of our current fight to defund Planned Parenthood, successfully urging Leader McConnell to offer an amendment on it in 2011. In 2015, for the first time in history, we put a bill on the President's desk to defund Planned Parenthood. That measure was included in every major bill in 2017 to repeal Obamacare, a law that disappointingly remains on the books. In November, we asked the Leader to continue to make this pro-life effort a priority in the FY19 reconciliation bill.
In 2012, Senate VAT was the first to act against President Obama's unconstitutional mandate that forced Americans to violate their freedom of conscience. Despite a firestorm of misinformation in the mainstream media, we did win over three Democrats while losing just one Republican. Although we didn't win a majority Senate vote in 2012, we ultimately won at the Supreme Court in Hobby Lobby v. Burwell. In 2017, at our urging, President Trump's Department of Health and Human Services finally issued rules to overturn the mandate.
We led a congressional amicus brief in the winning religious freedom case Trinity Lutheran Church of Columbia v. Pauley. As a result of that ruling, FEMA announced its updated policy to provide equal treatment to houses of worship in need of disaster assistance. VAT helped block passage of the Employment Non-Discrimination Act and the Gillibrand amendment codifying President Obama's enlistment of transgender servicemembers. Through multiple letters to the VA and DOD, as well as language in NDAA, we helped protect the religious freedoms of servicemembers and chaplains.
We've more than doubled the amount of funding for sexual risk avoidance education while also updating the program. In 2011, Senate VAT led the push to oppose President Obama's exclusion of the Catholic Bishops from human trafficking grants. This year, we wrote to President Trump to ask for his issuance of an executive order to protect religious liberty, and we've seen agencies like the Department of Justice and Department of Agriculture follow through on their implementation of the President's order.
One of the most lasting achievements we will benefit from is the confirmation of Justice Neil Gorsuch to the Supreme Court, the new 51-vote threshold for Supreme Court confirmations, and the continued work we are doing to confirm young, conservative judges to lifetime appointments.
Senate VAT has benefited greatly from the dedicated and skillful work of Lauren McCormack. I deeply appreciate Lauren's tireless efforts to reach out, communicate, and advance our values goals. The Catholic Bishops saw those qualities as well, and, after working in my office for seven years, Lauren will be starting her new job with them later this month.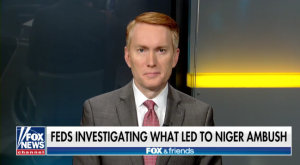 One of the lessons I've learned serving with eight different co-chairs is that prepared staff is critical to putting together our monthly meetings and to our constant communication. As Lauren leaves, I believe it is a good time to step aside as chair and continue to be involved as an active co-chair.
Senator Lankford, supported by his terrific legislative counsel, Sarah Seitz, has agreed to step into the chair role. After seven years, I look forward to the new leadership James will bring.
The success of the Values Action Team would not be possible without the enduring and active support that each of your organizations and principals provide. I am grateful to each of you and look forward to our continued efforts together.
Sincere regards,
Roy Blunt
United States Senator